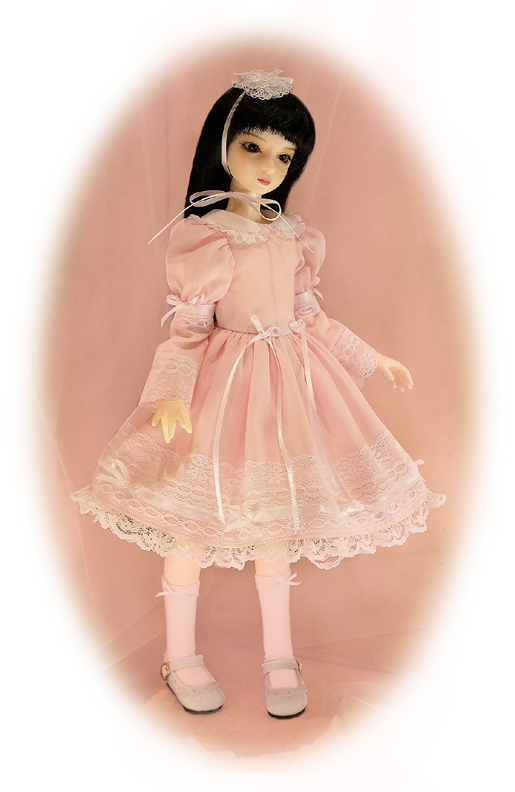 #13 Mini Wardrobe for MSD
A Custom fitted wardrobe for immature torso MSD girls.
The models for this pattern are 43 cm Kid Dollmore MSDs
The little girls are tired of their little kid clothes. All the big girls are wearing their elaborate Elegant Gothic Lolita dresses with ruffles and laces and ribbons and sighs. Asha, Calvin, and Aidan could endure this no longer!

Here you go, little ones!
A Mini Wardrobe sized just for you: an EGL dress with matching headdress and crinoline, a girly dress with short puffy sleeves, a short pleated skirt with curvy yoke and a coordinated top, a cropped jacket with dropped shoulders and asymmetrical closing, and a matching hat. The pattern elements can be assembled in many ways to create your own MSD Mini Wardrobe. And everything is easy to make!!!
Kid Dollmore MSD girl size:
Height : 43.5cm
Bust : 17.5cm
Waist : 15.5cm
Hips : 18.5cm


* Sized for immature torso MSD girls



The #13 Supplement is now included with the #13 Mini Wardrobe pattern...complimentary!

With the #13 Supplement, you can use the #13 pattern for 2007 43cm Resin Goodreau MSDs and many other mature torso MSD girls. Please see the following page for more information


Go to
pattern:

38

39

40

56

57


64

65

66