Sweetheart Dress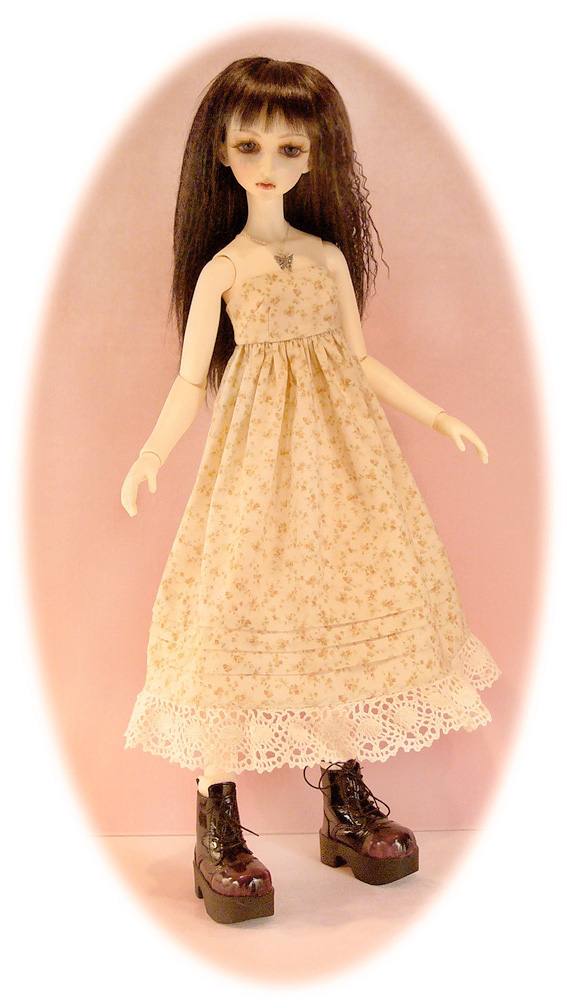 Sweetheart Dress
My mom made this beautiful pink sweater for my birthday. Enubi's new sweetheart dress is the perfect complement for such a pretty cardigan. Try the dress with a fancy shawl, a simple jacket, or a statement necklace for very different looks.

The empire bodice is the Tiny Top in #7 Bells and Whistles, sized for slimmer SD girls like CP Luts Lishe, Soom's Gena, Unidoll). The pattern has a generous overlap in the back, so you will need to trim off a bit at the center back to fit your doll.

If you are sewing for another SD girl body sculpt, first make the Tiny Top pattern using scrap fabric and basting stitches. Adjust the darts and side seams, mark with a pencil, remove basting stitches. . . and you have your own custom pattern. My model, D.I.M. Enubi, is a bit smaller in the bust line than Lishe, so I adjusted the darts slightly.

To make the skirt, cut one rectangle 12" x 28" (shorter dimension runs on the straight of the grain). Finish the center back edges with an overlock stitch, turn under 3/8", and press. Add 1 ½" wide pre-gathered lace to the lower edge, press seam allowance upward, and topstitch. Make three ¼" tucks near the hem edge:
Press a crease 1 3/8" from the hem edge. Stitch ¼" from the crease. Press pleat down (toward hemline). Press another crease 3/4" above the first line of stitching. Stitch ¼" from the second crease. Press pleat down. Repeat for the third pleat. Make 2 rows of gathering stitches along upper edge, join to the bodice and finish lining using traditional sewing techniques.

#7 Bells and Whistles:
http://www.gracefaerie.com/patterns/pattern7.htm


Refer to pattern instructions for all other cutting and construction information. Embellish as you wish!