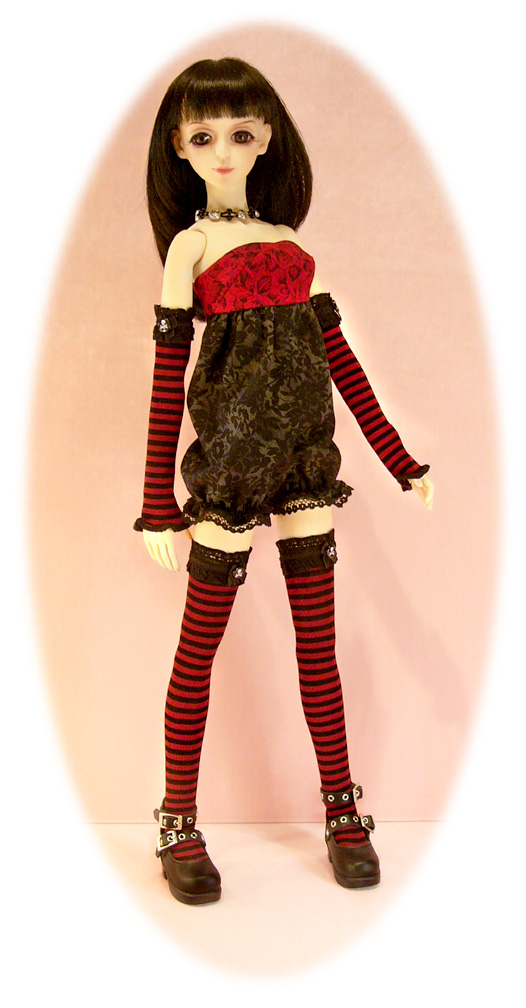 Arm warmers and thigh hi's by MonkeyTailz
Necklace by Jonijewelry
Short Romper for SD Girls
These fun-to-make rompers were inspired by MonkeyTailz accessories. I could not bear to cover the top edges of the red and black striped thigh hi's!
The empire bodice is the Tiny Top in #7 Bells and Whistles, sized for slimmer SD girls like CP Luts Lishe, Soom's Gena, Unidoll). The pattern has a generous overlap in the back, so you will need to trim off a bit at the center back to fit your doll.

If you are sewing for another SD girl body sculpt, first make the Tiny Top pattern using scrap fabric and basting stitches. Adjust the darts and side seams, mark with a pencil, remove basting stitches. . . and you have your own custom pattern.

The lower part of the romper is the Romper Pants from #30 Play Day printed at 130%. Trim off 6 3/8" from the bottom edge, so your inseam will be a scant 1 ½".

#7 Bells and Whistles:
http://www.gracefaerie.com/patterns/pattern7.htm

#30 Play Day:
http://www.gracefaerie.com/patterns/pattern30.html

Refer to pattern instructions for all other cutting and construction information. Embellish as you wish!