Metro Steampunk Set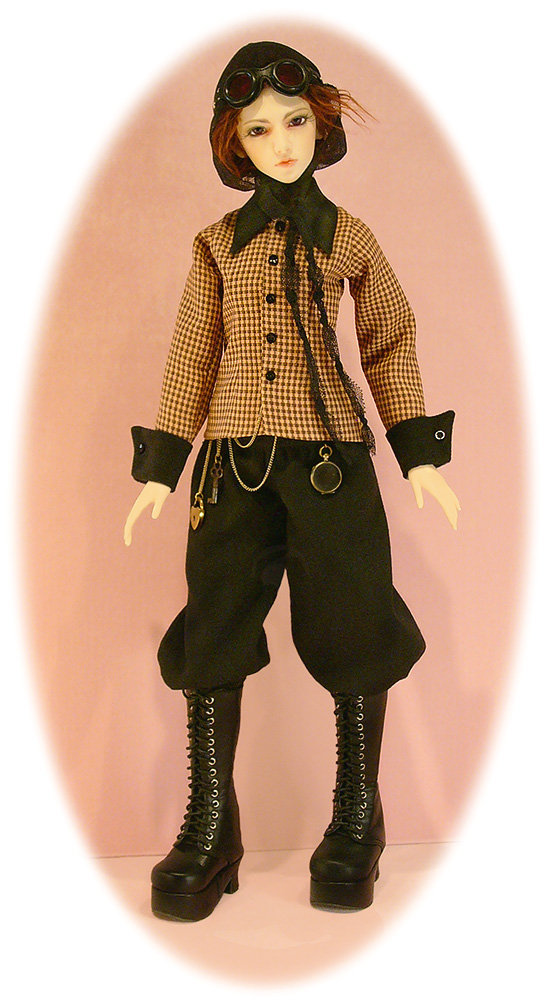 Metro Steampunk Set
Emma steps into the gas lamp era in her wool crepe knickers and impeccable cotton shirt. Goggles and tall boots complete the look for girls or boys.

My model is the Elfdoll/Rainy Emma facial sculpt on SB Rainy body (pre-2008 Hazy body). Guidelines below are given for her body sculpt, though this set can be made to fit most 1/3 scale boys and girls by customizing the Pant Yoke and selecting the appropriate #31 Shirt pattern. Three sizes are included in the #31 pattern..

Knickers:
Begin with the #33 Silk Road Romper Pants (sized for Sprite) copied at 130%. Reduce fullness by 1" (crease the paper pattern along the grain line, machine stitch ½" from the crease, then open up the pattern so it lays flat).
For the Cuffs at the pant hem edge, cut 2 rectangles ON BIAS of the grain, each 1 ½" x 5".
For the Pant Yoke, select the Skirt Yoke pattern (LB Elfdoll size) from #10 Takeshita-dori. Trim off ¼" from the lower edge of the Skirt Yoke Front and Skirt Yoke Back. Stitch the side seams using 3/8" seam allowance (so the yoke sits higher on her hips).
Follow #33 instructions, adding the Cuff bias binding at the pant hem rather than the ankle-length Pant Cuff that is included in the #33 pattern.

The Jacket is constructed with the CP Luts Delf size Shirt in #31 Shorts Story. Add ½ length at the hem edge of the Shirt Front and Shirt Back. Add 5/8" to ¾" length at the hem edge of the Sleeve.

Add steam punk accessories such as hats, scarves, goggles, watches, keys, gears and other metal items.

#10 Takeshita-dori:
http://www.gracefaerie.com/patterns/pattern10.htm

#33 Silk Road:
http://gracefaerie.com/patterns/pattern33.html

#31 Shorts Story:
http://gracefaerie.com/patterns/pattern31.html


Refer to pattern instructions for all other cutting and construction information.