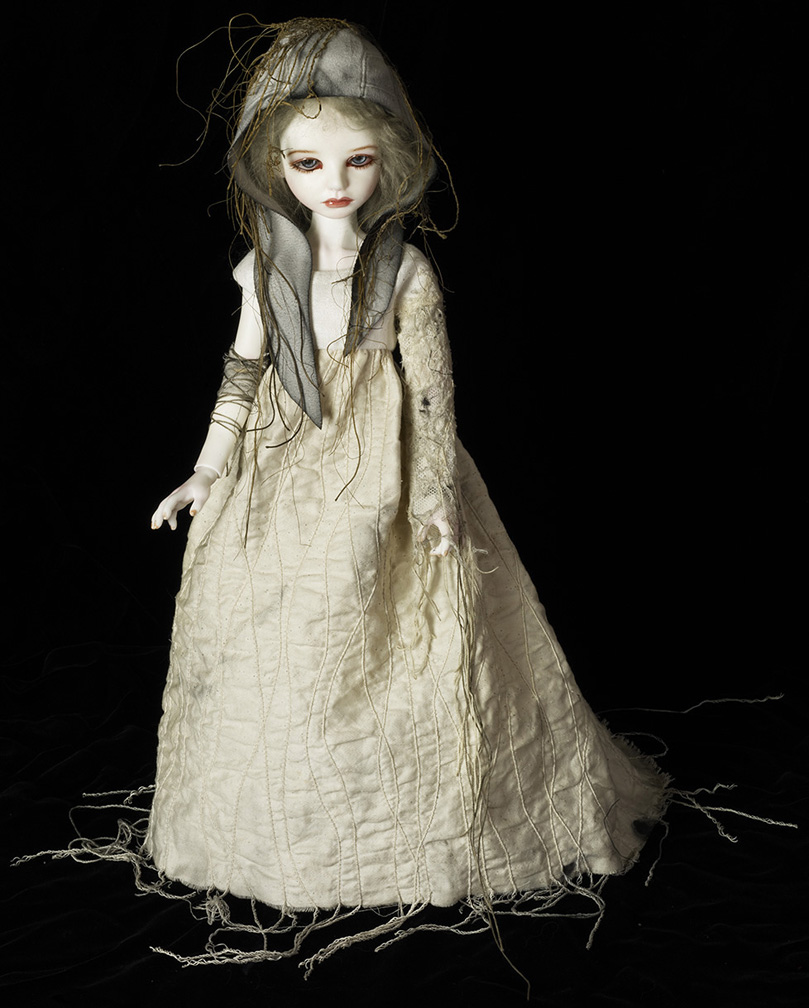 Forsaken, a one-of-a-kind costume by gracefaerie for 43cm Planetdoll Riz

The design for this costume started with the bodice pieces in #37 Simply Summer for Planetdoll 43cm Riz. The fabrics are vintage tablecloth linen and a damask linen napkin, heavily embroidered with machine embroidery and couching, and then tea-dyed and painted. The cap is faux suede that has been painted/dyed and embellished with machine embroidery (the embroidery is stiffened to hold the shape).

How to make the embroidered sleeve:
The sleeve is basically machine embroidery on ivory tulle. To prepare: Drop the feed dogs on your sewing machine and set your machine for a normal length straight stitch. Place the tulle on top of Sulky Solvy water soluble stabilizer, and stitch through the tulle and the Solvy. Narrow strips of muslin and pieces of cording (gimp) are randomly placed on the tulle as you free-stitch in random directions (by moving the work with your hands as you stitch). Then, wash out the Solvy, and dry your embroidered piece on a towel.
For this sleeve, I stained the embroidered piece in a mixture of tea and black fabric paint. I usually dye it too dark, rinse it out, and keep doing this until I like the way it looks.

Riz's face-up is by Charie Wilson and her wig is by Michele Hardy.